Acupuncture Point Combinations:
The Key to Clinical Success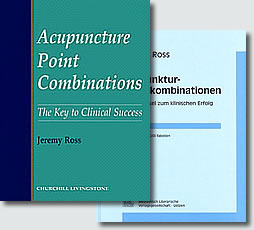 Knowing how to create a balanced acupuncture point combination is crucial for successful treatment.
Principles of point combination
This book cuts through the confusion and difficulty that can be involved in point choice. Jeremy describes different styles of point combination, such as Five Elements or Extra meridians, and discusses when one style is preferable to another.
Treating personality types
There is a special chapter on point combinations for ten personality types.
Point combinations for the main points of each organ system
This is the heart of the book. For each of the main points, there is discussion of the different Chinese syndromes for which it can be used, indications, with pulse pattern, and an example point combination.
Point comparison tables
It is essential to understand the differences between each point on the same meridian. Many point comparison tables are given for this.
Point combinations for diseases
There are 10 chapters on point combinations for some of the most common Western disorders.
For each disorder, the main Chinese syndromes are given, with detail of signs, symptoms, pulse, and tongue, and examples of point combinations.